PEC offers a comprehensive range of framing channels. In various designs and steel grades our hot-rolled and cold-rolled channel portfolio is flexible and versatile. They are suitable for use in a wide variety of applications such as:
Fixing air ducts, pipes and electrical lines

Anchoring of machines and racks

Infrastructure projects (e.g.

tunnels or bridges)

Elevator construction

Automotive

Shipbuilding




PEC framing channels can be welded directly to the steel components. They are suitable for low, medium and high loads. Easy and quick installation on site with PEC screws greatly facilitate the work on construction site.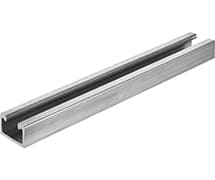 Product advantages
Currently the only hot-rolled framing channel with ETA for 3D loading in combination


with toothed or serrated screws




New PEC-MZ-CE 29/20 is the first ETA-tested framing channel with teeth

Optimized profile geometry for highest tension- or shear loads

Flexible material selection depending on application: rollblank, hot-dip galvanized, stainless steel A4

Corrosion protection with hot-dip galvanized or stainless steel A4 material possible

Simplified installation due to the choice of 3 installation methods (welded, partially welded and subsequently doweled)
Product overview
PEC Framing Channel, hot-rolled (ETA-certified)
PEC-MZ-CE 29/20
PEC-M-CE 40/22
PEC-M-CE 50/30
PEC-M-CE 52/34
WB, FV, A4
WB, FV, A4
WB, FV, A4
WB, FV
HBC-T 29/30
HBC-40/22 und HBC-40/22-N
HBC-50/30 und HBC-50/30-N
HBC-50/30 und HBC-50/30-N
Base material
Load conditions

Steel

Static/quasi-static

Static 2D loading

Static 3D loading
Framing Channel, cold-formed (suitable for welding and screwing)
PEC-M-28/15
PEC-L-28/15 (perforated)
PEC-M-38/17
WB, FV, A4
FV
WB, FV, A4
HBC-28/15
HBC-28/15
HBC-38/17
Base material
Load conditions

Steel

Static/quasi-static

Static 2D loading
Material and surface finishes:
| | |
| --- | --- |
| WB | Steel S235 JR - 1.0038 (St 37-2), rollblank |
| FV | Steel S235 JR - 1.0038 (St 37-2), hot-dip galvanized |
| A4 | Stainless steel A4 1.4362 / 1.4401 / 1.4404 / 1.4571 |