PEC Framing technology programm
Framing technology
PEC framing technology program
PEC Europe framing technology program comprises a wide range of PEC Framing channels in bright rolled and hot-dip galvanized material as well as the corrosion resistant variants in stainless steel. The product offering is complemented by the corresponding attachments, bolts and DIN elements
The advantages of the framing system find application in the areas:
Steel construction
Automotive Engineering
Mechanical engineering
Plant construction
The compatible system can also be used together with the PEC Cast-in channels.
Framing Channels
PEC Framing Channels
PEC Framing Channels can be used in different application areas e.g. fixing air ducts, pipes, and electric wires. PEC Framing Channels can also be directly welded on the steel components and are available for small, medium and high loads. They provide easy and quick on-site installation with threaded rods, PEC T-Bolts, special locking plates and other accessories.
PEC Framing Channels are available in different variations and steel qualities. Standard lengths are available immediately. Special variations with special holes can be delivered on request.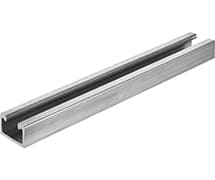 PEC Hot-rolled Framing Channels

PEC Cantilevers, Bolts & Accessories
PEC Cantilever Brackets
PEC Cantilever Brackets can be used for fixing cable trays, pipes and other utilities. They are available for small, medium and high loads. Easy and quick on-site installation with the help of PEC Cast-in Channels and T-Bolts or with post-installed anchors.

PEC Bolts & Accessories
The exceptional range of PEC Europe Framing-Channels is completed by various T-Bolts and DIN items. All are immediately available from stock.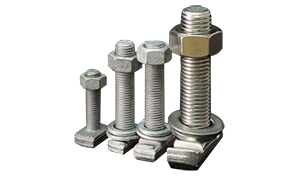 Cable Holder System
PEC Cable Holder System
The safe load transfer of heavy wires and cables in tunnels, shafts and other utilities requires a stable fixture and appropriate support brackets. The PEC Cable Holder System consisting of cable holders and cable retainer Cast-in Channels ensures a proper storage system for cables and power lines within a short installation time and adjustment possibility.
The Cable holder channels are made of hot-dip galvanized steel and are available with back anchors for concreting or as plain channels for the subsequent fixing with dowels. The integrated rip line enables a quick, complete and clean removal of the filler. The slots themselves are additionally covered to achieve an optimal protection against the penetration of liquid concrete.
Due to a stamped slot with a distance dimension of 7,5 cm, the cable holders fixing is possible in any corresponding distances.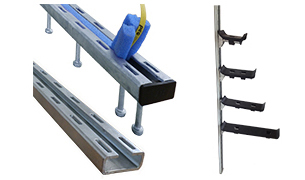 Advantages of PEC Cable Holder Channels
Easy installation on existing formwork or existing walls


Clean finish of concrete due to end caps


The penetration of concrete into the interior of the channel is prevented by a plastic foam filler


Easy removal of the filler by the integrated rip-liner


High corrosion protection by galvanizing


Can be cut on site arranging the anchors asymmetrically


Available in different lengths